This summer is predicted to be hotter than ever before and even when it's 96 degrees in the shade, coffee lovers still want to cool down. Although known as a luxury commodity, Coffee Roasters of Jamaica has an authentic blend of coffee that can replace the more popular instant coffees on the market. Reasonably priced for a sixteen-ounce packet, it has the robust taste Jamaican Blue Mountain coffee is known for.
This intense flavour, indicative of Jamaican Blue Mountain Coffee is so sought after by coffee aficionados because it isn't like any other gourmet coffee in the world. It takes very specific, very precise growing conditions to produce Jamaican Blue Mountain Coffee— which is unique to our little island of Jamaica.
Unusual volcanic soil, cool conditions, and the comparatively long ten-month period from bloom to harvest. It's fundamentally impossible to replicate the kinds of growing conditions where the coffee thrives, meaning that while some may try to imitate its properties, there's nothing quite like the real deal.
However, for Coffee Roasters of Jamaica, which buys only from select local small farmers, the coffee beans are handpicked and have a meticulous roasting process that transforms their green coffee beans and brings out that outstanding well-bodied taste.
Coffee Roasters of Jamaica brand from Country Traders, is known for its distinct flavour, one that is described as subtle and multi-layered with hints of honey, florals, and chocolate. Jamaican Blue Mountain coffee is also well known for its quality and ranks high as one of the best coffees in the world.
In 1991, Country Traders Limited launched its family-run business, owned by Mark Fletcher who wanted to bring his unique blend of coffee to the market. In 2006, he was certified as a cupper so he could understand how to learn the subtle differences between the many components that give each cup of coffee its own distinct and signature flavor.
Today, he manages a team of twenty skilled workers. He is one of the original few coffee roasters on the island licensed by the Jamaica Agricultural Commodities Regulatory Authority (JACRA)—the government agency that meticulously maintains control over the quality of Jamaican Blue Mountain coffee.
Country Traders' primary business over the last 27 years has been the roasting and distribution of Jamaica Blue Mountain and other Jamaican coffee in both the local and export markets under the 'Coffee Roasters of Jamaica' brand.
As principal, Mark Fletcher tells the story, "We traditionally bought green beans from other processors but decided to begin purchasing coffee directly from small and medium-size farmers in 2013. We made this move to improve the consistency of supply and quality of raw material for our roasting business and to become exporters of Jamaica Blue Mountain green beans." he says.
Country Traders is a well-established buyer in the Jamaica Blue Mountains and has acquired a farm in the Silver Hill area, which is in the heart of the Blue Mountain range. They continue to buy only the best quality gourmet coffee from small farmers throughout the Blue Mountains and export green beans to the international markets—such as Japan, Korea, Taiwan, and China.Summer is brewing and what better way than to have different coffee drink options in the heat.
Here are a few cold coffee-infused drink recipes:
Dalgona Coffee or Whipped Coffee
Dalgona coffee or whipped coffee is a TikTok fave! Instead of instant, whisk boiling water, Coffee Roasters brewed coffee, half instant coffee, and sugar together until dissolved. Continue to whisk until mixture becomes thick and forms a peak, 2 to 3 minutes. Pour milk into a glass. Pour the frothy coffee on top of the milk.
Matcha Coffee Latte
Add 1 teaspoon of matcha powder and 1 cup of almond milk with ice to a cup with a lid (like a mason jar) and shake. Add 1/2 cup of coffee to the matcha + milk mixture. Add maple syrup and stir. Serve hot or cold.
Cold Brew Coffee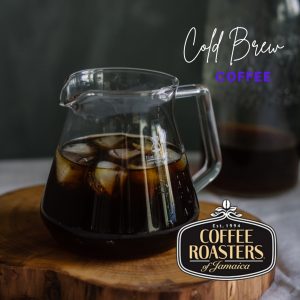 Combine the Coffee Roasters of Jamaica coffee grounds with water, then let it steep for about 12 hours. Strain the coffee. Dilute the coffee with as much water or milk as you prefer. Serve over ice.
Flavoured Coffee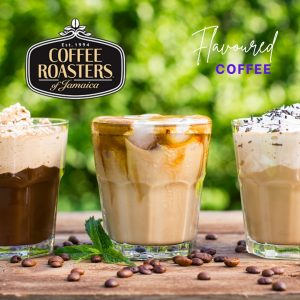 Whether French Vanilla, Caramel Macchiato, Hazelnut, or Mocha, adding your favourite flavours is a great way to change things up. Add whipped cream and sprinkles to make something special.
To purchase Coffee Roasters of Jamaica on Amazon, search 'Coffee Roasters of Jamaica 100% Jamaica Blue Mountain beans' or visit www.countrytraders.com.